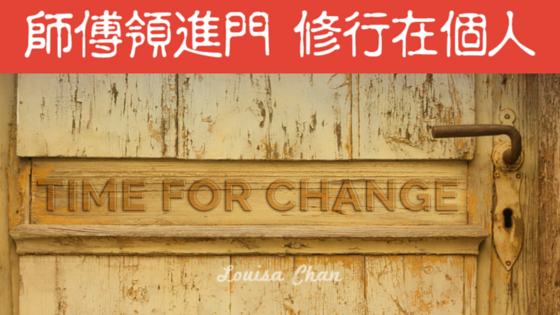 师傅领进门,修行在个人
This Chinese proverb is commonly translated as
The teacher opens the door but the student needs to walk through it.
This is not far off except I doubt if Chinese masters, in ancient times, would open doors for their disciples even figuratively speaking. More likely it would have been the other way around.
So I came up with the following version:
The master leads his disciple through an open door, and it is up to the apprentice to practitise what has been taught.
The wise master provides direction to the apprentice. He even walks beside him every step of the way, navigating through dangerous minefields before leading him to an open door.
There, he waits for the disciple to step up to the challenge, to go through the door and to claim new grounds.
修 has the meaning of cultivating (new habits or ways of doing things) while 行 literally means to walk (the talk), to practise it or to live it out.
The Secret
There is no need to climb the wall or to break in. You don't even need a secret key as the door has been unlocked and the strategies revealed. The master has laid out the plans and given turn-by-turn instructions.
All that's left for the disciple to do is to follow the steps outlined to enter into a new realm. Sadly, not ever student will follow through.
The Implementation
My mentor once warned that consuming training can get too comfortable while building a business requires stepping out into the unknown and putting plans into action.
It involves creating products of value and continually making iterations for on-going improvement.
Strategies, Implementation and Mindset
Unless there's execution, those practical action plans remain as concepts. Too much emphasis has been put on getting strategies while a new mindset, one that is open to testing out ideas and taking action is equally important.
A master can't lead if  …
But here's the thing. No master can lead if the disciple does not follow. The master will not push, neither will he make requests. He would lead you as far as you are willing to go and would leave the rest to you.
Growth, whether personal or professional, cannot take place by getting training or strategies if there's no implementation.
Reasons or Results?
What might be the reasons for not putting the strategies to work? We can easily come up with a list of 20 items (or more). These are reasons and justifications. As long as these are cherished, there will be no results.
What do we need to make progress?
Do we need more strategies, new technologies, tools or knowledge? Do we need more time, more proof, more courage or to wait for the right timing? Are we procrastinating due to fear (of failure)?
Perhaps we just need an open mind and a pair of willing hands to execute those plans. Perhaps we need to put new processes and systems in place to help us work through the plan with perseverance.
Are you walking through that door to start working your plot of land?
修行, cultivation of your business is a process. It takes time and effort, but the fruits will be well worth the while.
The journey through the door will take you to places you have not been. Besides testing, there's still modification and more testing before there's harvesting. So are you coming through the door?
There is no try." Yoda says. It's "Do. Or do not.