In a recent Radio Interview with BFM Radio (a Business Radio Channel) we discussed building sustaining, heart-based businesses that you can be proud of, so you have the time and resources to do greater works and serve a higher purpose.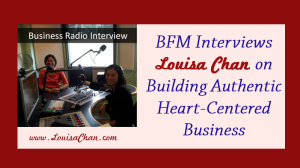 The intervew conversation is based on one of my ebooks "3 Essential Pillars For Growing An Authentic Heart-Centered Business".
Why is it important to be authentic?
Can you build a sustaining business using heart-based-marekting? [Read more…]