In a recent Radio Interview with BFM Radio (a Business Radio Channel) we discussed building sustaining, heart-based businesses that you can be proud of, so you have the time and resources to do greater works and serve a higher purpose.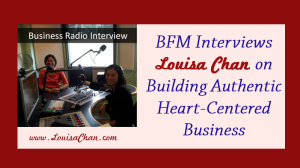 The intervew conversation is based on one of my ebooks "3 Essential Pillars For Growing An Authentic Heart-Centered Business".
Why is it important to be authentic?
Can you build a sustaining business using heart-based-marekting?
We covered some points that have not been included in the book so you may want to get the audio interview file, available for download at the end of this post.
Some of the questions raised in the chat include:
– Why Did I Write This eBook?
– What Is Authentic Heart-Centered Business?
– Why Is Authentic Heart-Centered Business Important?
– How Can You Set Up A Heart-Centered Business?
– What Are The 3 Pillars Of Authentic Heart-Centered Businesses?
– What's The Next Step For Those Who Want To Startup Heart-Based Businesses?
This video offers some highlights of the chat with the Producer (who found me on YouTube).
The original video hosted at YouTube has related videos on heart-based business
In the ebook, I use the term heart based businesses and heart-centered businesses inter changeably to mean purpose driven businesses that are run by conscious owners.
The ebook is available for download here.  And if you prefer to get the entire audio interview file, you can find it at the BFM radio site or you can just leave your name and email here and we'll send that to you!
If you need anything else, just get in touch via Support@LouisaChan.com