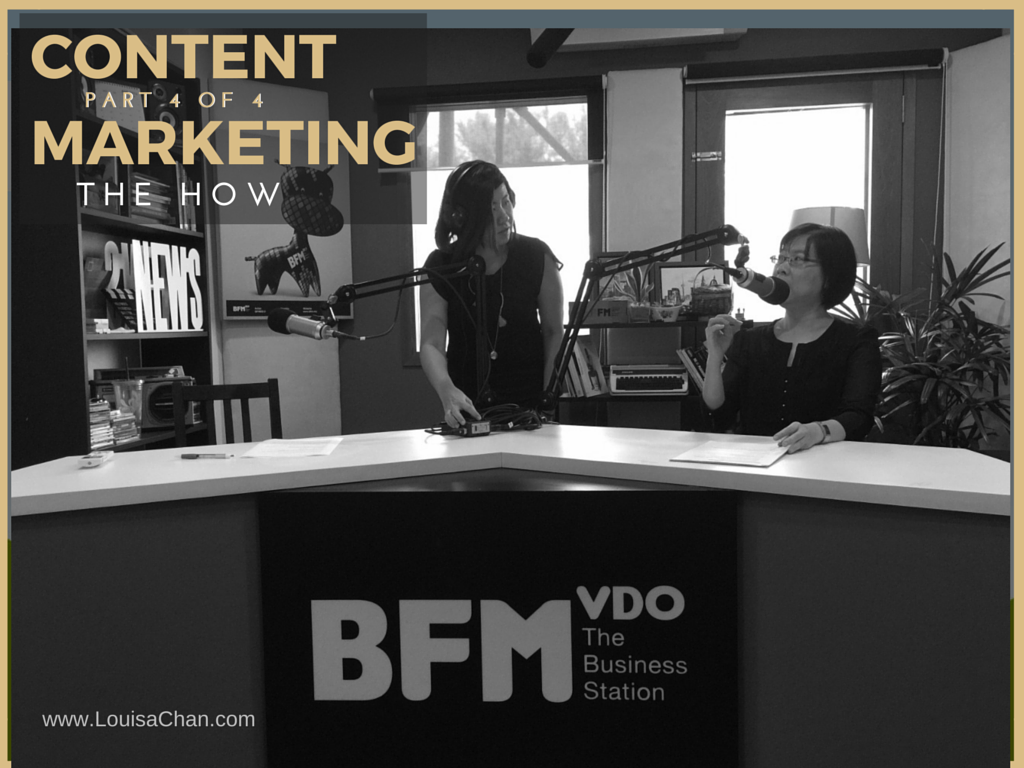 So you are ready to include content as part of your marketing. Now what?
How do you implement content marketing for your business?
What should you look out for?
How do you set your content strategy?
Who should create and distribute the content?

Can these be automated or can you outsource this?
In Part 4 of a 4-part series done in collaboration with BFM Radio, we will look at the nuts and bolts of implementing practical content marketing.
Part 4 of 4: How To Implement Practical Content Marketing
1. I'm ready to implement content marketing, what should I do?
2. The Content Audit

A snapshot of how things are now
Review the business website
Check content attributes for freshness and share-worthiness
3. The Plan

What's the most suitable channel(s) to use for you
Put in supporting structures (to ensure plan is carried out)
And accountability
Consider having an editorial calendar
4. The Content Creators
5. The Kick Off
Content marketing is different from running a campaign
It's the marathon
And you are building assets
6. Checks, Test and Modifications
Note the results over time
Tweak and test
Rinse and repeat
And here's the audio interview. What I've learned about content marketing I learned from Copyblogger Media. They provide a ton of free and highly valuable resources via poadcast and text format. If you are interested to accelerate your business growth, they also offer stringent certification courses.
Grab pen and paper as we discussed a whole lot in this session and yet there are so much more to talk about! Now when you are ready, just press play.
This podcast was originally published on
the BFM site here
. To download the radio interview, you can right click and save.
Have I missed out anything? I feel like there's still so much more I need to share but we've run our of time! Join me in the discussion on Google Plus or leave me a comment below!
Be sure to check out other free resources on Content Marketing here. And if you have missed the earlier sessions, you can find them here:
Part 3 of 4: Content as Ambassadors, helping us build Trust and Authority
Part 2 of 4: What Does It Take for Content Marketing to Work?
Part 1 of 4: What is Content Marketing and Why Now?
Podcast: Play in new window | Download