If a picture paints a thousand words, how would a video fair?
By 2016, 2.08 billion users globally are projected to possess smartphones.
That's 2.08 billion potential video producers (Millennials and Baby Boomers), ready to captures the special "moments" throughout the day and to share these online.
YouTube reports that 400 hours of videos are uploaded to its site every minute while Facebook claims that they are generating 8 billion video views per day. These videos even auto-play on the Facebook and Twitter (unless you disable it in the Twitter settings).
It's not hard to believe that video will become the main channel of communication and entertainment. By the way, how many videos have you watched today?
How are videos used in marketing, especially for trainers?
Cute cat videos may accidentally go viral and get lots of views, but they won't do much for businesses in the online learning industry.

Trainers and educators use videos in their marketing to:
Increase brand awareness
Generate leads and traffic
Initiate client engagement
Distribute content
Build brand authority with video tutorials and live streaming
Retain clients
Video advertisements are still in its infancy, but it is something that we'll see more of in 2016
I often take video clips of participants in my corporate and public training workshops. My training seminar delegates are kind enough to give video testimonials upon completion of the training, reflecting on the course and sharing takeaways.
These videos become social proof of my training service. They capture the authenticity of the feedback and is a powerful trust-building tool especially when the presenter looks you in the eye through the video clip, it connects, and trust is formed.
Videos appear in many different forms
Many social media platforms support videos. You'll see them appearing in the following ways:
The 6 or 12-seconds short videos on Vine and Instagram
The auto-played videos on Facebook and Twitter
The 5-minute or so screencast tutorial videos on YouTune or Vimeo
The whiteboard or animation cartoon-type videos
The talking-head video speeches by trainers and entrepreneurs
The live-streaming interview videos on Hangout, Periscope, Meerkat or Blab
On-demand, evergreen webinars or live webinars
The Snapchat videos that even B2B businesses are exploring
There are also pinnable videos on Pinterest
We are beginning to see 360-degree videos on Facebook.
Two-thirds of bandwidth used for videos
Everywhere we turn, we see videos. Cisco predicts a future where 69% of consumer bandwidth on the internet will be used by video by 2017. Videos are becoming an indispensable part of our lives; good news for trainers who know how to use video marketing!
Two key ways to make videos work for your training business
1. Stand out in search with visuals
You have heard that the Google Authorship markup is no longer supported on web searches. Your headshot image will no longer show up on search results. Many authors lament this change.
However, you can still get your video thumbnail to show up on searches (accurate at the time I'm writing this although nobody knows when Google may change things around).
For now, Google owns YouTube and YouTube is the second largest search engine. Using YouTube video to share content is one way I significantly increase my reach and strengthen my online presence (I was "discovered" online by a local Business Radio station through a YouTube search)
Examples of video thumbnails showing up in search
In the example below, a few Louisa Chans showed up. But the two video thumbnails stood out in a sea of text. They drew our attention first.

Create videos for your cornerstone content and key phrases; you'll stand a higher chance of extending your online reach and amplifying your brand authority.
2. Videos to market online education and training
Educators offering online courses are aware that eLearning is a $107 billion dollar industry. What is not as obvious is that the opportunity for growth is the largest in Asia (see graph below).
If you are not teaching online now, you'll want to think about doing it, not just from a financial point of view but as a way of passing on your knowledge.
One central component of online learning is the use of on-demand video lessons. These videos double up as promotional content when used in conjunction with content marketing. 
Online educators can no longer ignore videos. The need to learn how to create good-quality videos is urgent and real. Online and blended training are gaining mainstream acceptance in the academic and corporate space.
It's time to learn some essential video creation and editing skills as well as to get some basic video creation tools.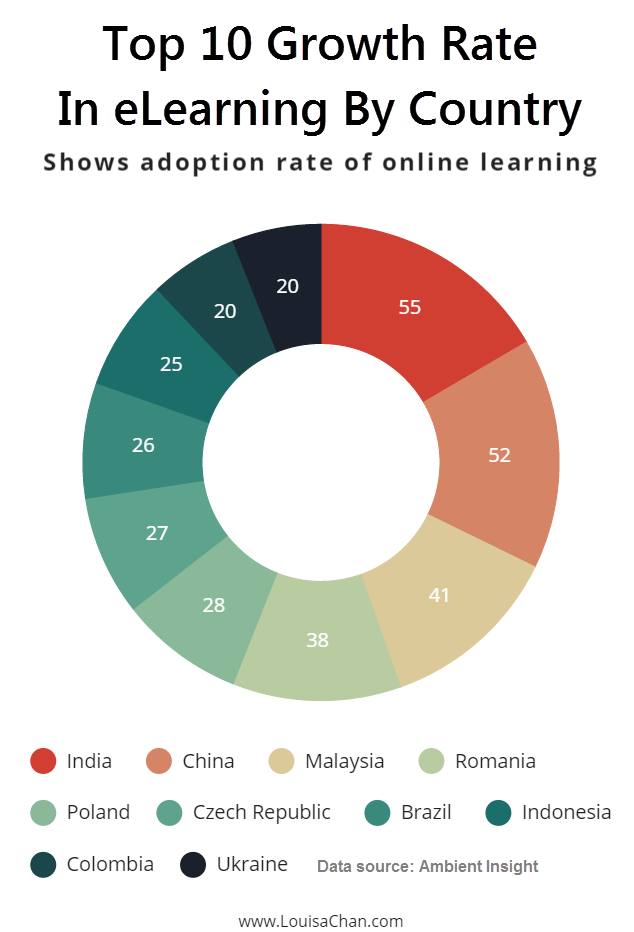 Video creation tools for creating tutorials
The following software can be used to produce videos for eLeaning:
Some online lessons only require presentation-type tutorials while others would benefit from seeing screen captures and navigations. Not all the applications mentioned above offer screen capture capabilities or video editing functions.
Depending on the subject matter you teach, you may need more robust tools. But all online lessons require story-boarding of the lesson plan. Each slide needs to be planned out carefully to communicate learning points before recording of the voice-over can take place.
Besides getting the right tools for your lessons and you'll also need to decide on:
The type of videos you'll make
The platforms you'll use to host the videos
Videos are engaging, and they're becoming more so when you include an interactive element.  While I've recommended Skype for those bootstrapping their online teaching business, learners today expect a lot more from the online education experience. This is the right time to get your learning management system in place for the new era of students.
In Summary:
The need to use video is real and urgent. The proliferation of videos on the many platforms testifies to this. I've shared two main ways trainers can make use of videos to promote their business and highlight some video creation tools you can use.
How is video marketing fitting into your marketing mix?
If you are interested in having us create videos for your content marketing, get in touch, and we'll get your videos out to promote your brand authority and generate some traffic.