Get more students.
Who wouldn't want that?
But how?
If you are in the business of growing your business, then you are an educator and you would want to read on.
A while back, I had a real time, online video conferencing "hangout" training session on this topic with some friends from the other side of the world. With their permission, I include a portion of what we discussed here.
Click on the audio file to listen in on the a portion of the online presentation.

I have not included the entire presentation in this podcast as the original training session was slightly more than an hour. We also had a Question and Answer segment.
If you would like to be notified or our regular tips and free training, you can 
register here
and we will be sure to keep you informed.
Who Can Use The Internet To Look For Students
?
Educators or training providers who conduct training and lessons online and those who don't. You don't have to teach online to make use of the internet to get more students. You can make use of new media to get you more students for your in-person lessons.
Why Use The Internet To Get Students
?
This list is not exhaustive, but it should give you some solid reasons to consider using new media. It can bring your new and repeat students.
1 – Reach:
Using online media allows you to break free of geographical borders. As long as there are internet connections, you are able to reach new students. With smartphones getting cheaper and gadgets getting more common, you are able to reach billions of people who may be looking to take online courses from you right now.
2 – Convenience
: It is relatively easier to use online media to advertise or to get referrals. It is often cheaper too. Imagine having to knock on doors or drive from town to town just to explore new territories.
3 – Location:
You can run your campaigns and processes from anywhere and you can reach your ideal clients without disrupting your lifestyle. You don't have to move or travel to far away places to venture into new frontiers.
4 – Time and Cost:
 Tapping into the internet saves you lots of time. The barrier to entry is low and you don't have to seek approvals from the authorities for putting up your campaigns, something you might need to do if you were to put up physical sign boards or banners.
5 – Agents
: Your campaigns and processes become your marketing agents. They work for you. If you are shy about selling or marketing, using your messages online (through blog posts or presentation slides) can help you promote your services without you promoting it directly.
6 – They Work Around the Clock:
These processes and campaigns run all the time once they are set up, even when you rest.
7 – One Time Effort That Can Be Used In Multiple Ways, Multiple Times:
You set up the work once and it can be used over and over again. When I did the online presentation to the group of teachers in Europe, I did one presentation in real time, recorded it and now I am using the same material at my blog site.
The presentation slides can be uploaded to online sharing sites like
Slideshare 
and the audio file can be turned into a podcast on
SoundCloud
. You can do the same on other pod casting sites like
iTune
or
Stitcher
.
And if you make use of Google Hangout to deliver your online session, the video would be automatically rendered and hosted for you at your
YouTube Channel
.
This is a huge time saving feature and you can draw interested people with these media over and over again. The different forms of media allow you to be seen on more than one platforms; giving you more channels to promote your services.
You Don't Get This With Offline Campaigns
You would not be able to enjoy any of these benefits if you use offline advertisements or campaigns. Newspapers and magazines are disposed of almost the same day. Radio and TV advertisements are gone in half a minute.
But using online and new media, you could multiply your effort many times over. This is particularly useful if you are a soloprenuer, attending to every aspect of your business.
So Will You Use New Media To Get More Students?

I didn't cover this in depth during the hangout training, because I know my participants are already sold on the idea. However, I think this will set the background for anyone who may not yet think that they need to tap into new media.
With that point addressed, I will continue to share some highlights of the presentation with you here.
The Quick Way To Get Students
Getting students online can be quick and easy with online advertising. You could turn on a campaign within hours if you know who you want to target and where your potential students are hanging out. But this will cost you money.
And The Sustainable Way
The other way makes use of a process that draws in your ideal clients by building your online presence and credibility. This will take time and your involvement. Either way will work but you'll need to know which one works for you at each stage of your business.
For this presentation
, I did not focus on using advertisements. I discussed a process of attracting your ideal clients to you on a continuous basis using a tried and proven method. This will be a longer process, but a more
sustainable
 and a more
fulfilling
one too.  Don't expect to see immediate results if you use this process, because this is not a campaign.
The core of the presentation is in the diagram you see above. That's the process of getting your clients online. To break it down, you would need to:
Be where your students are, so they can easily chance upon you (engineer your lick and be found easily)
Show up as a credible Teacher who knows your subject well
Lead your contacts to your website, your own online asset, so they can know more about you
Keep communicating with them on an on-going basis
Allow them time to get to know you, your approach to teaching and your philosophies. Demonstrate to them that you can help them and let them know what they can expect when they work with you
At the right time, let them know you can help them with your unique curriculum and sign them up
Whether they take up your offer or not, you will continue to grow that relationship so your new found contacts can become your students (clients) and your clients can become your ambassadors.
I won't be elaborating on each point here. Perhaps I will do a follow-on series. Perhaps. But I hope you have found the audio podcast helpful.
And in the mean time, here are some highlights of what was shared during the online learning session.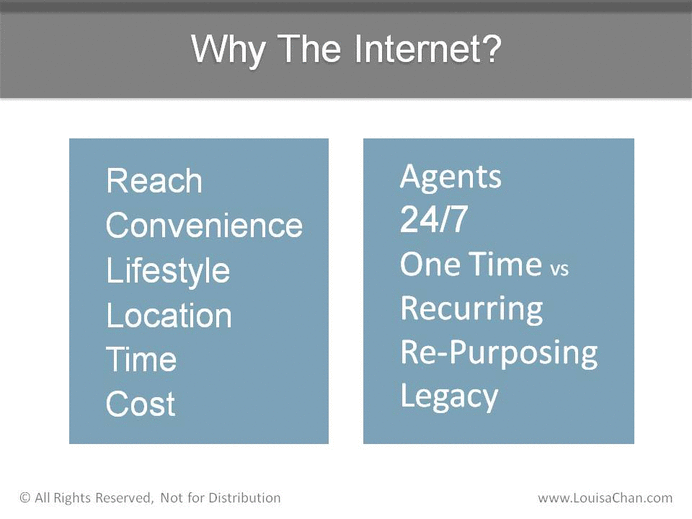 If you have read this far, I will share a bonus point with you. See how I have avoided the use of industry specific terms like "content marketing" and "repurposing"?
Don't worry if you don't know what these words refer to. I have taken a deliberate approach to write so that anyone can understand the message – without the industry specific terms.
Just remember that you already have what it takes to market your services and you, the educator have natural skills for marketing.
Now it is your turn. How are you getting your students?
Feel free to share this to anyone who may find this helpful. If you would like to be notified about our regular tips and free training, you can register here and we will be sure to keep you informed.