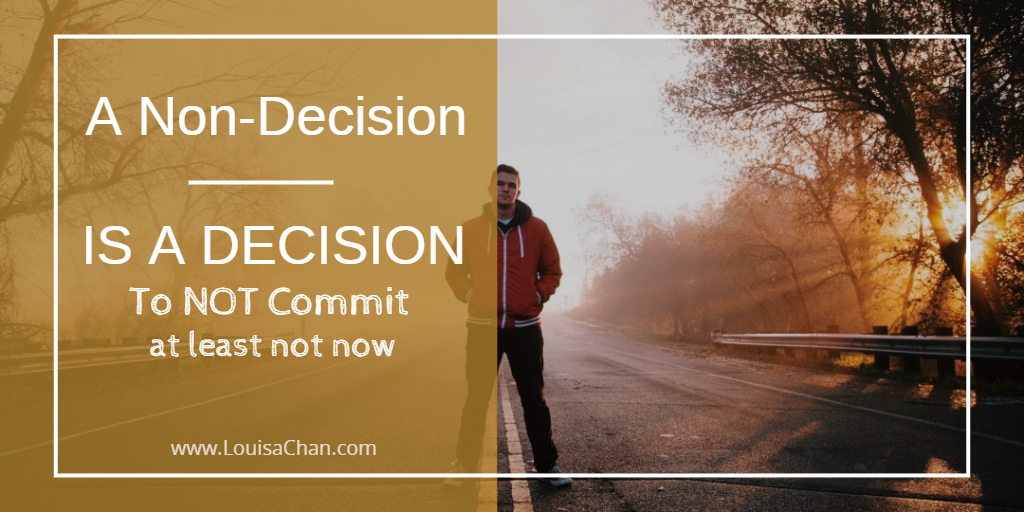 You're stuck. You're faced with a situation you don't know which way you should go.
You're not sure if you are ready to choose "Yes" and move forward or to wait a little until you feel more ready.
Or at least, when you feel that the timing is right.
The Middle Ground
Inevitably, you've taken the middle ground. It's not a "Yes now", and it does not seem like a "No" either. It's quite the safe place.

You buy some thinking time before taking a stand. But does it?
Taking the middle ground is, in essence saying "No". At least, it's a "No" for now.
But the boat is leaving. If you're not on the boat and are still thinking about your options, you'll be standing on the shore when the boat sets sail.
Make Progress and Learn by Taking Actions
Jack Ma, when asked about his secret of success says,
You have to take hold of the opportunity. While you are watching, I am taking action.
I don't recommend making rushed decisions. But we do need to be decisive as the world is moving at an ever increasing pace.
I can understand that procrastination happens because you don't want to make wrong decisions. But it's by taking the first step that the next steps will become clearer.
Taking action may involve making  mistakes along the way, but you'll be learning from those experiences and getting clarity as you move forward.
I am reminded of this saying (by someone):
Some people watch things happen,
Others make things happen.
Yet others wonder what happened.
A Non-Action Is An Action. Silence Is A Response
Not taking an action is to have taken an action not to respond.
Not making a commitment is to have committed to non-committal.
There is no middle-ground.
Inaction and silence are not neutral. They convey a message of non-committal. Watch this 1:33-minute video.
Fear Immobilizes
Fear, indeed, keeps us from making decisions. The fear of making mistakes results in procrastination, leading to inaction.
If you are at sea and are not in motion, you can be easily swept by the winds and the waves. It'll be very hard to arrive at your goal.
Are you actively taking actions to move towards your goal or are you waiting to be ready?
What have you forgone by not making a firm decision?