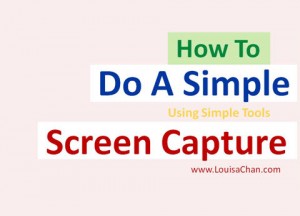 Something's not working on you computer.
You want to describe what you see to your technical support team but she's not getting it.
If only you can show her what you see on YOUR screen.
Using screen capture applications, you can do that and your tech support person can quickly help you solve the issue. It is pretty straight forward, just follow the steps here.
In this video, I am using SnagIt from Techsmith here but you can use other tools like Skitch (from Evernote) or Jing (from TechSmith). These are free resources you can download from the internet.
Using screen captures helps you get your points across clearly so you don't have to spend time describing it and risk mis-communication.
So here's a one-min video I just put up.
If you find it helpful, I would appreciate it if you would share it and give it a thumbs up. And if you want to be informed of future video tutorials, you can
subscribe to my channel here
.
It's pretty straightforward to do that but if you need a little help, here's a animated image that'll show you how you can do that too.