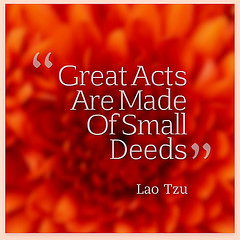 This week, I was unable to send out newsletters as the email marketing provider I am using had a major DDOS attack that disrupted their service (and mine).
Security is of fundamental concern.
During the week, I had to leave my glasses with the optometrist for a brief 30 minutes. I had the choice of waiting or run errands (no, not driving without my glasses, just walking).
You may not know that I am very dependent on my glasses. Without them I feel as though security has been aken away from me and everything looks blur.
But even the blur vision gave me context and when I took steps to move forward, signboards and people's faces became clearer (squinting my eyes helps somewhat).
So often we want to know with perfect assurance
 the right thing to do or what the next step should be before we take any action.But clarity only comes with commitment and taking action.
The more consistent actions
 you take, the clearer your vision and momemtum will carry you onto progress while waiting for the perfect answer will get you nowhere. In case you wonder what your next step is, it is those small things you know you need to do.
That is true in life as it is in business.
Be faithful in small things; take those consistent actions and you will see results. But there is one criteria. You have to 
make sure you are taking the right actions
and doing the right things.
Mere repetition
 will not get you results. It's like practising any musical instruments. While practice makes perfect, practising it the wrong way consistently will ruin your foundations and fingering. And it will take a much longer time and much more effort to unlearn and set things right again.
Taking the right steps consistently helps, repeating the same mistakes won't.
Laying the foundation and getting the fundamentals right is most important. Skip over this and the entire building will suffer. Do this right and you'll be able to expand and grow. We understand this in building highrises and that is the same in business buidling.
If you have some online presence but things are not really moving then there's a good chance some basic things may need some attention.
For a very limited time, until 3rd March noon US ET, I am offering my Business Buidling Essentials home study course at 31% off.
If you are just setting up a new business or if you have a few paying clients but are not able to scale, then check this home study out.
Details of the course are here
Offer expires on 3rd March noon time US ET.
If you have any questions, reach out and we'll get back to you.