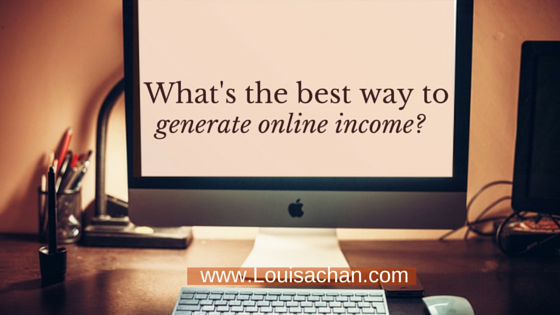 What's the best way to generate income online?
Your job's demanding and you're tempted to venture into online business.
So should you join an MLM and sell products online? It seems they provide the content for marketing and may even give you a website.
Or should you sell someone else's digital products as an affiliate?

You're told that's the fastest way to generate income online. Apparently you can even do it without having a website and you don't need to worry about creating products.
So just pay for some quick traffic or "use free social media" and you should be able to generate some online income, right?
My heart goes out to all those who have signed up for some PPC workshops and spent a ton on advertisement trying to do affiliate marketing.
Online Business Options
A. There are those who makes lots of money selling other people's products.
But before you rush into this, consider the following:
You have no control over the pricing of the product or any promotion
You have no control over the compensation plan. It changes – often
You don't know if the product you promote will still be around later
You don't know if the quality of the product will be maintained
You don't know if management will change, affecting the business model
You need to subscribe to their business philosophy
You are associating your reputation with a product you have no control over and
You are building someone else's business
That looks like a long list but it's worth your careful consideration. Before you decide to make promoting other people's product your primary source of income consider these carefully. Don't waste your precious time and energy; you have very limited supply of each.
But if not this then what are your options? What else can you do online to generate supplementary or replacement income? Affiliate marketing sounds like the easiest and fastest way to get going.
Option B: Selling your own products (and services)
Well, have you considered creating (and selling) your own product and service? You'll have a lot more control this way.
But is this doable?
Sure. Having to create a product before you can sell it will definitely involve more effort. But you'll have a better chance of providing your clients with what they want rather than having to sell what's available.
And you'll be building your own business. It's well worth the effort and not quite as complicated as you may think.
Years ago. I needed to contract a graphic designer to help me come up with a nice 3D image for my online course. I also needed her to help me create a professional-looking mini site to sell my products.
Your tools are user-friendly
Today, you can pretty much do this on your own using very user and cost-friendly graphic tools or website themes. Hardware costs has dropped; production of your online course could not be more viable.
Most people carry smartphones they can use to record audio and video tutorials. Hangouts are also free to use.
Creating and selling your own product is very doable and this is the best way of generating sustainable online income.
Here's what you can achieve offering your own products / services online:
You can custom make your product to suit your ideal clients
You have full control over the quality of the product (and the clients' buying experience)
You earn your income using your unique approach according to your core values
You learn and grow as you serve
And yes, you have free rein in expand your own business when the time comes
You may not be able to get a product up overnight but you can lay the foundation for that while working at your day job.
If you are interested to find out more about starting your own online teaching business, check this out or get in touch.
Share This Image On Your Site